"I think the most important thing I've learned from choosing a word…is that it's not actually the word that matters. It's my willingness to pay attention to the feelings I'm hoping to address, which are more complicated than one single word. The word is just a framework for it all, a mantra in times of confusion or distress. So [I try] not to stress about finding the 'perfect word'– instead, I'm thinking about the kind of person I want to be next year and allowing that vision to take the lead." — Katie @ The Cozy Burrow
Quite possibly the most beautiful words ever written on the process, if you ask me.
---
Reading + writing over coffee one morning, I thought —
Wouldn't it be terrific to gather with other One Worders and talk about the ways we choose our words? Yes. Yes, it would.
So an hour later, I invited 10 fellow writers + bloggers to join me–and to my delight, 9 responded! Wholeheartedly.
(Thank you.)
And get this–collectively, we have 88 years of One Word practice!
Which means…there's lots to share. So let's get started.
---
How to choose a word could lend itself to some real… overthinking. Puzzling over which word is one big reason people don't follow through. (Another being…'What do I do with my word once I choose it?' Which is why we talk about that here once a month.)

So. Let's start at the beginning: How Do You Choose Your One Word?
By and large, it's an organic process for most of us. By that, I mean it's a process that just sorta happens, and if you pay attention, well, you can't miss the messaging.
Choosing begins with noticing.
For Moriah in Maine: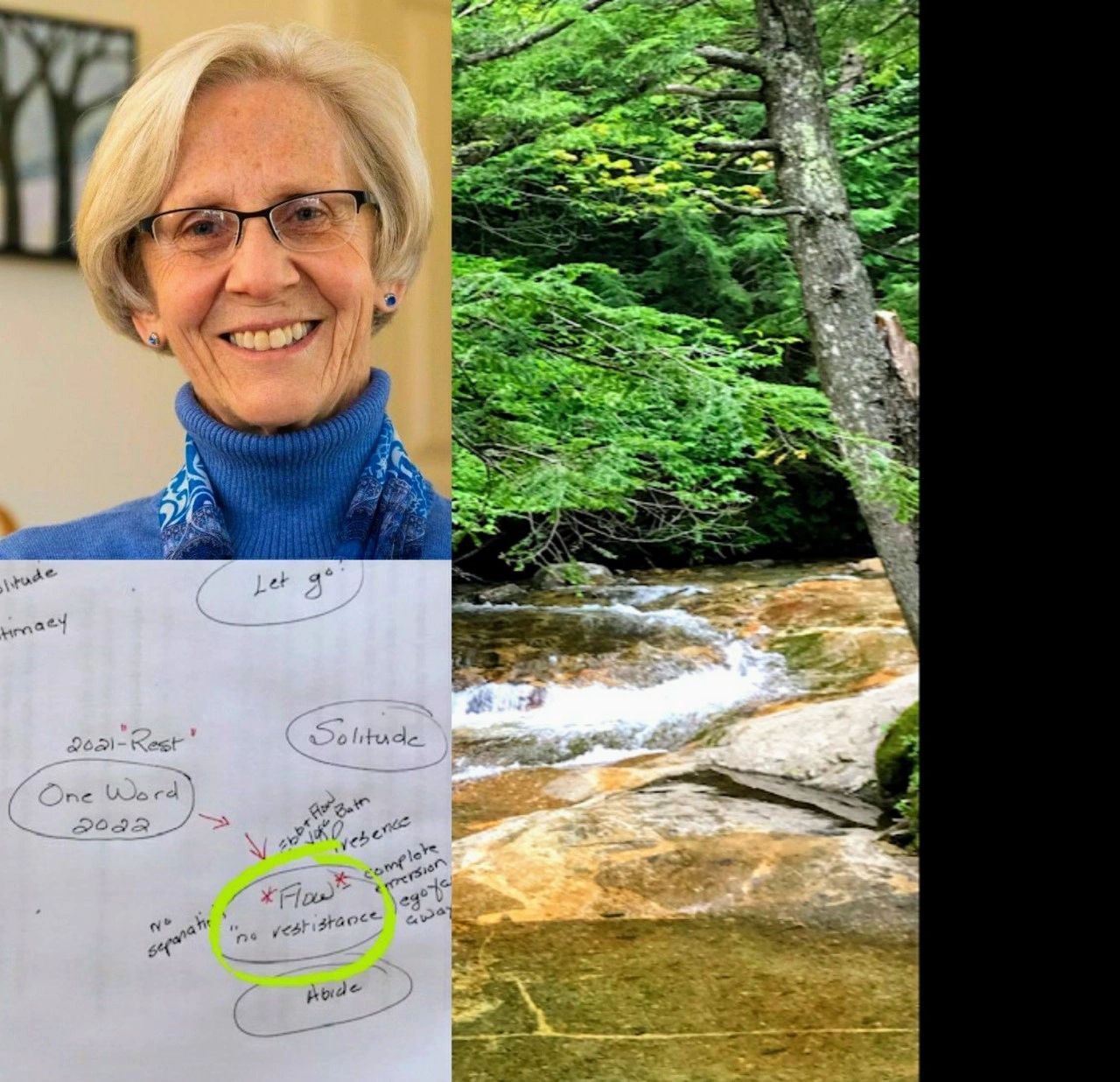 "Each of my words has been related to a deep, almost 'wordless' or nameless longing that I sense within. [They] arise in the course of my meditation and writing. If they arise repeatedly or particularly powerfully, I believe I have something to learn from them. I feel drawn to dwell with them for a while and sink more deeply into them."
The power of listening to that 'still small voice' is impressed upon me here–versus imposing our conscious mind… the one that [can] noisily impose Judging and Shoulds and Measuring.
Just curious–prior to choosing One Word, did you have a practice with New Year's Resolutions? And if so, how did that compare to your One Word experience?
"Yes, I had a 'New Year's Reflection' process. I used to spend a good part of New Year's Day reflecting on the past year and considering what my priorities for the coming year might be. I didn't make 'resolutions' or set goals but rather developed a shortlist of things I wanted to focus on for the coming year. My list might have looked something like this (hypothetical):
staying inside myself, not giving myself away
writing
no new commitments
"Ways of being, rather than doing. I would print and frame the list and put it on my 'prayer shelf,' where I placed objects that I looked at each time I meditated. It was a change practice for me–gentle but insistent."
I'm writing those words down–a change practice.
---
And back to noticing–meet Deanell: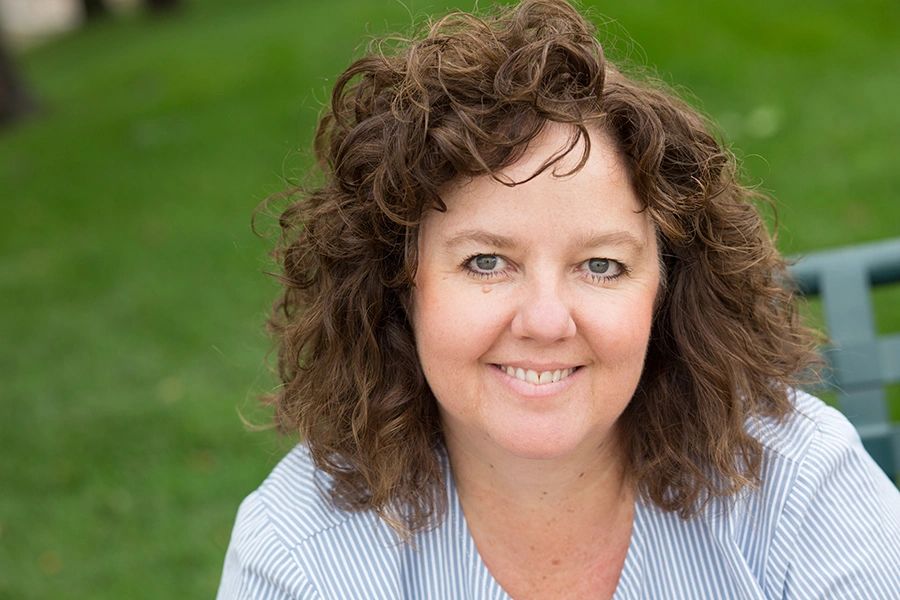 "Sometime in October, I earmark a page in my journal. (This year, the page is called 'One Word 2022 Options'.) It naturally segues into noticing words I like and adding them to the page. It might be something I read on a page–in a book or a blog post–or someone says something out loud that resonates. I don't censor myself much at this point because I know something I write may spur another thought…
"Then, mid-November or beginning December, I start to narrow that list. A couple of words usually stand out. I'm deliberate about not doing any 'word work' at this point, though–I'm still using the current year's word and do not want to short-change the full-year commitment. (It can happen easily!) Around end of December or New Year's, I choose the word and begin wrting about how I see it coming together."
Do you still have wiggle room at that point? Have you ever gotten to that 'final stage' and discovered it's not the right choice?
"There's always wiggle room because this is a word for the next 12 months. I do realize, however, there's no such thing as perfection. This means I don't allow myself to vacillate endlessly. I do a gut test, and if it feels right, I go for it, trusting I will learn something about myself along the way. I've changed the word only once, years ago now. I'd started working with Focus and realized right away it would not provide enough growth. For anyone who knows me, I'm focused. Sometimes to a fault! So adding more focus was not going to be a good fit. That is the year I changed to Flexibility."
What a valuable experience–both for you to have had and to share with us here. Your process from Focus to Flexibility is the kind of reflection that makes this practice transformative, I think. Not that we engage in One Word looking for hard work, necessarily–but it's not about staying on 'cruise control,' either. And it sounds like that could have happened–had you let it.
---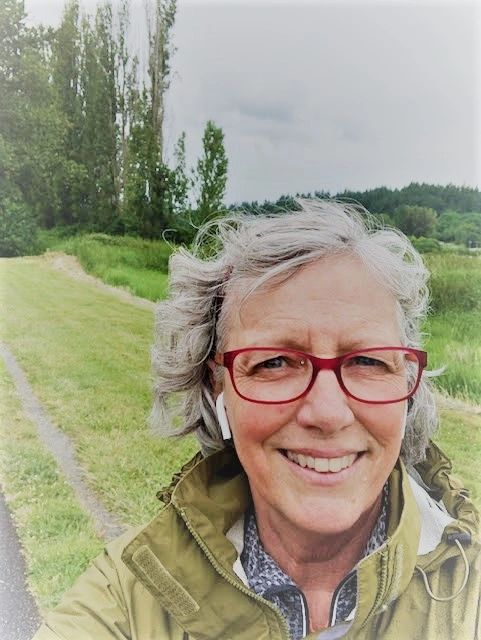 Late December is Juliann's sweet spot, too:
A few words have started to slip into my awareness for 2022. I probably should be making a list but I don't want to rush the process. Most years, I think I have the perfect word and then, usually in late December, I come across something in my reading or conversations and realize That is my word. So I try to let it rise up and not get ahead of the process.
Sounds like this comes from experience. And it sounds like you really trust the process. Has there ever been a year you were like, 'Is it gonna show up?!'
"Actually, 2021 was a year when I wondered if my word would show up. I was chatting with Mary on December 19th and I had about four words I was floating around. She was also going back and forth, so we spent some time looking at those words. A few days later, I was reading In the Shelter. [Pádraig Ó Tuama] repeats the word Hello a lot in that book, and I thought, Hello, I think I have found my word.
---
Kat blogs @ askatknits. Her One Word led to another–in reverse, you could say:
"I began the process of my '22 word choice last year. Funny, huh? Two words for '21 kept circling around, but the more I thought about them, the more I realized I needed one more–and very important–step before I could embark on a journey with either onw! So I selected Release for '21. (However…a couple of new words have begun showing up for '22. I'm not certain if one of these new words will be it–or if some thoughtful meditation will lead me back to those words from last year.)
I'm so glad you said that, Kat–that other words 'have begun showing up.' Because they do, don't they?! And it's important not to shoo them away. I think that's part of the 'living' process of it all…remaining open to what comes. And next… About that:
"I think that's one of the things that's been most profound for me–how interconnected my words have been. Like a foundation… one block at a time, preparing for the next blocks."
---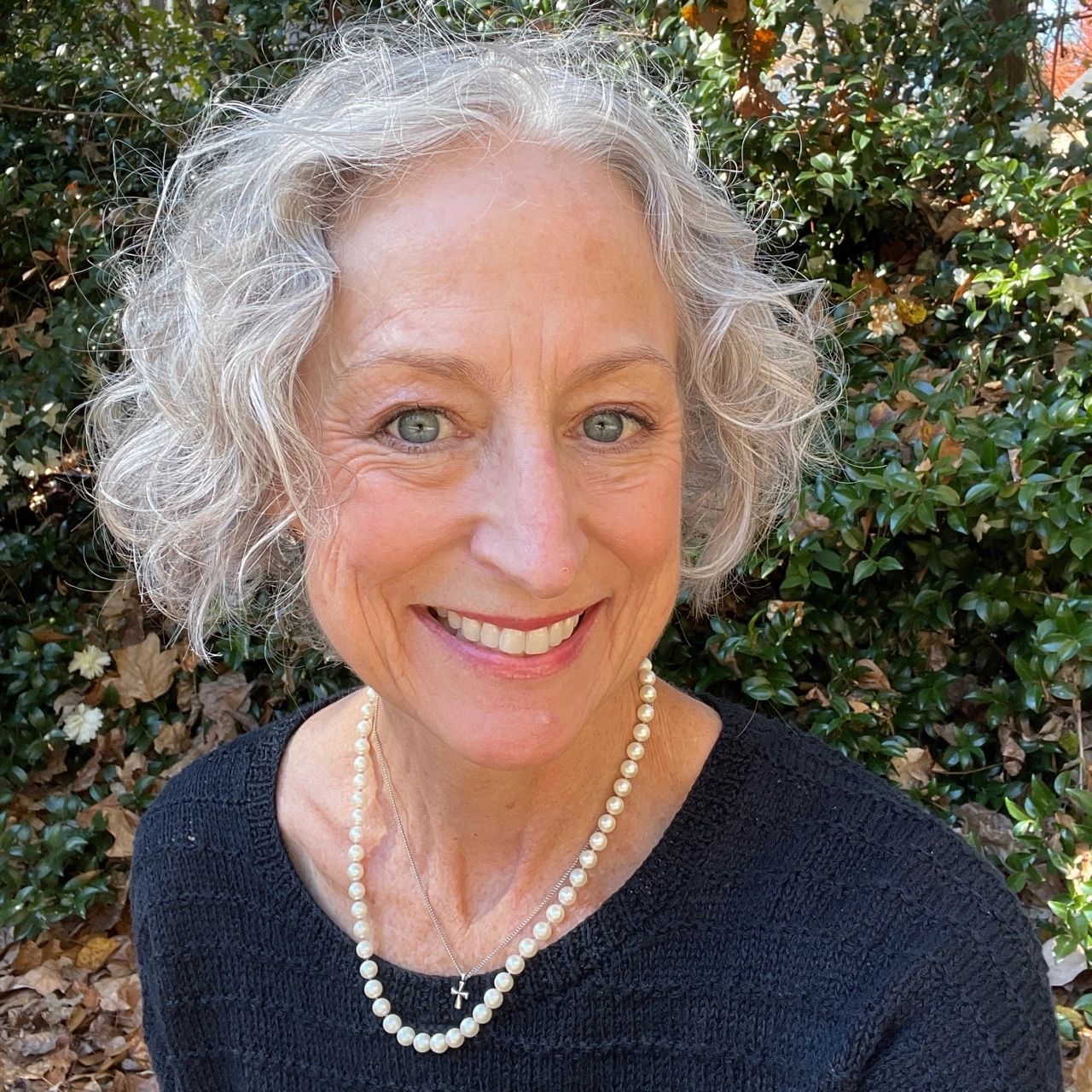 Mary describes herself as an avid knitter, reader, and 'sometimes blogger.' She and her husband, Marc, live in suburban Atlanta. When it comes to 'potential' in a word, I'm with her!
"I like having a word with multiple forms. Words that can be nouns…verbs…I even had a conjunction!" [And was Mary's One Word 2020.]
It 'opens it up,' that's for sure…especially during those early explorations of a word. That said, how have those selections compared to the more…one-dimensional words?
"I think it's been 'fun' to have a word with multiple forms, but I don't see any specific correlation between impact and type of word. When I looked back over my notes from 2011/Focus, I see that I intended to work not only on focusing myself and my actions, but also on learning photography (I bought my first DSLR camera around that time). Sadly, I'm not sure I really did much with my camera that year. I definitely used Hope as a noun and a verb, and Choose has been impactful, but it's 'only' a verb…"
---
Honoré is a 'Silent Generation Bye Bye Baby' currently living in Washington, DC. She's been choosing One Word since 2009. I love how she puts overthinkers at ease:
"…I've concluded I don't really have a method or process…rather, I try on (read: think, am intrigued by, undecided, etc) any number of word possibilities and often, just..go with the one that resonates most, at that particular moment. Many times, I figuratively throw a dart at the words and wherever it lands is where I am… Some years, I've [even] had two -if not three – words.
Wow! What's that like? Were they inter-related? Play off each other? And did you 'tend' to each throughout the whole year?
"Life is filled with words, as is the dictionary, based on our experiences, past, present and future … and connections are always being made as things change, life just happens. Daily, we're faced with any number of changes – some are short-lived, others last interminably. I'm not sure I can unequivocally answer your question; I just know that I know life changes and events, experiences resonate and I will explore a different path. An analogy and perhaps not the best one is the English Garden – beautiful and filled with all sorts of plants, flowers, bushes, shrubbery, etc. – not carefully manicured but thriving."
As I told you yesterday, this paragraph left me speechless the first time I read it. Coming back to it now, it slows my heart rate. I think you've tapped into something for me, Honoré! (And I'll bet I'm not the only one.)
---
This will be Kym's 12th year practicing One Word. Let's hear what she has to say!
"Often, I get a 'concept' in mind, but it takes me a while to figure out what word might best suit that 'concept'. (That happened with FLOW; I didn't have a word for a long time — but I knew what I was looking for). Sometimes, it takes me a while to settle on a word when similar words could send me down similar paths. This year, for example, my word is ROOT, but it could easily have been GROUNDED. I thought a lot about both of those words, which to me, kind of embodied the same general concepts. In the end, I went with ROOT because it seemed to offer greater possibilities for exploring."
So, you're an artist…and artistic…in so many ways. Do you ever work through, or explore, your word choice in any particular medium?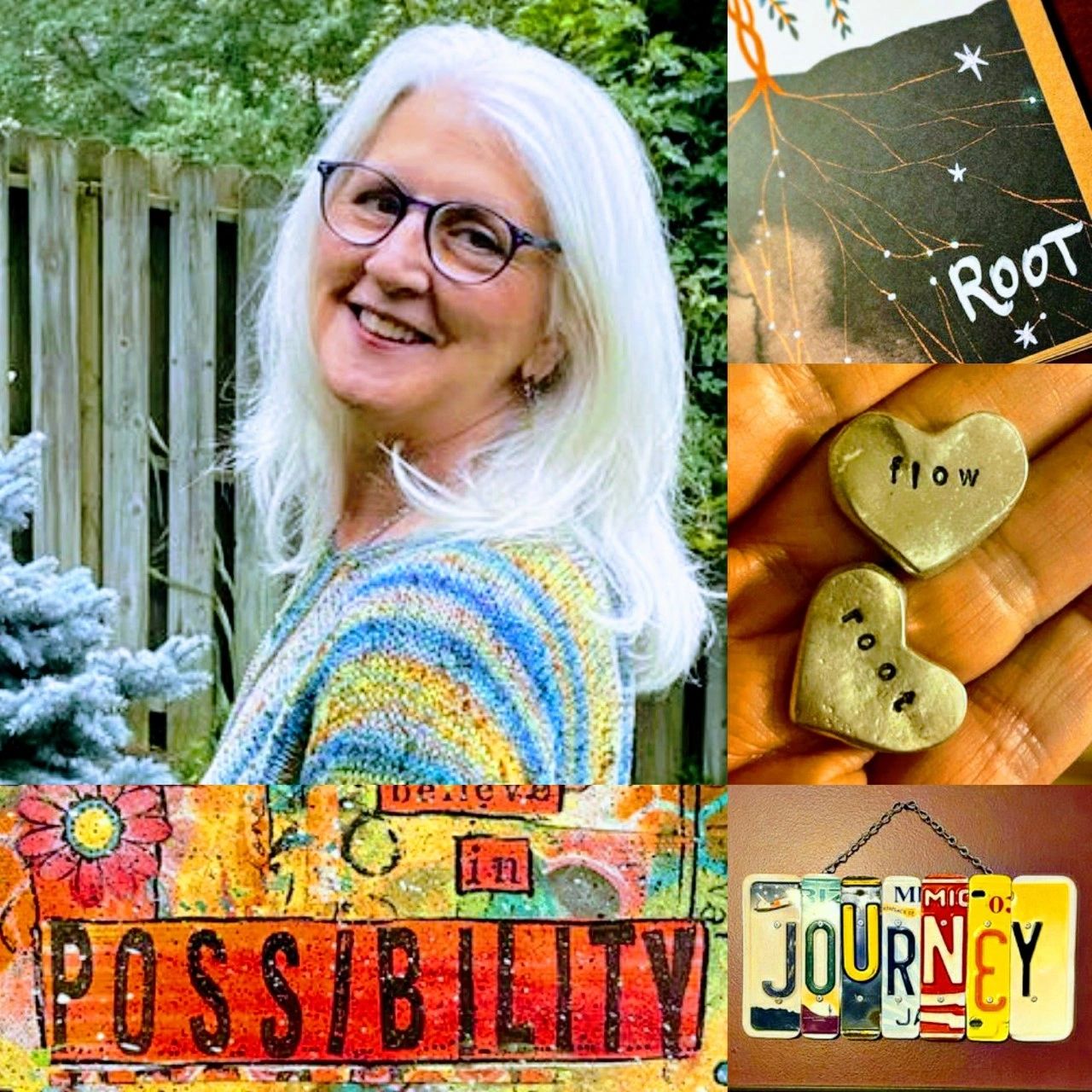 "Interesting question! Hmm… I don't think I do, really. Or at least…not in an intentional way. Some years, I've been inspired to create art journals celebrating my word. (I've been doing a lot of collage work in a journal this year, with ROOT.) I always put together a playlist inspired by my words, and I usually keep a book list of things I read that are connected with my words. (Both of those — the playlist and the book list — cross all time- and word boundaries, by the way. I don't constrain myself to a one word/one year kind of timeframe.) Mostly, I work through/explore my word through my regular, everyday journaling practice. Nothing fancy…"
---
Sarah and Katie take their organic beginnings–and work them a bit before committing.
Katie@ thecozyburrow lives in New Hampshire with her husband and three children. She tries to 'live the life of a hobbit and strives to create a cozy home and life for her family.' She says:
"My 2021 word, Stillness, crystallized for me about midway through 2020 and it's been a great fit. It was showing up everywhere that summer and I couldn't ignore it. It addressed so much of what I was struggling with at the time and had a powerful pull in my life."
Okay. So the hardest part of that, for me, would be 'leaving Stillness on the shelf,' so to speak. Especially since it sounds like it came when you really needed it. How did you approach that? Did you embrace it early?
"I think knowing my word early on in the year made it possible to smoothly transition into 2021. They overlapped pretty well and gave me a good starting ground for the new year!"
When I look at your list of words, that makes a lot of sense–Present followed by Stillness. I can see, potentially, a natural 'ushering in' there.
"Yes. However, next year's word has been more elusive! I've narrowed it down to two, though. To find them, I reread some of the poems and quotes that I've written down in my commonplace book, looking for words or phrases that still spoke to me. I'm giving both words a trial run by thinking about them in my daily life, dreaming of potential blog posts, and even trying different blog banner designs in Canva."
As Sarah puts it, she is getting 'a bit more analytical' in her process:
The first year I chose a word, it just occurred to me organically and it felt right immediately. Last year, I really thought about it, did some research, and tried on some words for size. For 2022, I've gotten a bit more analytical. I thought about what I've gotten out of having a word the past two years and what I want to focus on in my life in the year ahead. I wanted to pick a word that would have a general, overarching meaning but that also could be adapted to different parts of my life.
That sure piques my curiosity about your One Word '22! Can you speak to what that's looked like this year–what the analytical process looks like for you? (Journaling? Brainstorming? That kind of thing?)
"Sure! I find that I do a lot of thinking about life in general when I'm walking. I think it's something to do with being away from screens and other distractions, and it really frees up my brain. I usually listen to podcasts while I'm walking (because doing repeated loops of the neighborhood isn't exactly stimulating), and some of the shows I've started listening to since the start of the pandemic are focused on life and big questions, which of course has led me to think about my life, my approach to it, how I can improve myself/my health, etc. For next year's word, I was thinking back on what has changed in my life in the past year and what I want more of in the year to come. I realized that the word I've chosen seems a bit obvious in that respect–but I think it's going to be perfect."
Well that's enough to make me head out the door for a walk. Thank you, Sarah.
And great thanks to everyone here! …for your generosity + graciousness…for responding to All the E-mails. This conversation's been absolute delight.
And it's only Part I, if you can believe it! We've got so much more to share.
---
Readers, come back soon for more conversation, when we'll talk about how the practice has evolved…how/if the pandemic has influenced the words we choose…which ones have packed the most punch…and who's had a dud?!
I'm looking forward to it, and I hope you are, too.